Local Collaboration Goes Global—Howard County and Fraunhofer USA CESE meet in Germany
Executives from the Howard County Economic Development Authority (HCEDA) of Maryland met with Fraunhofer IESE and Fraunhofer ICT staff during the IT Security Expo and Congress held in Nuremburg, on October 9-11, 2018.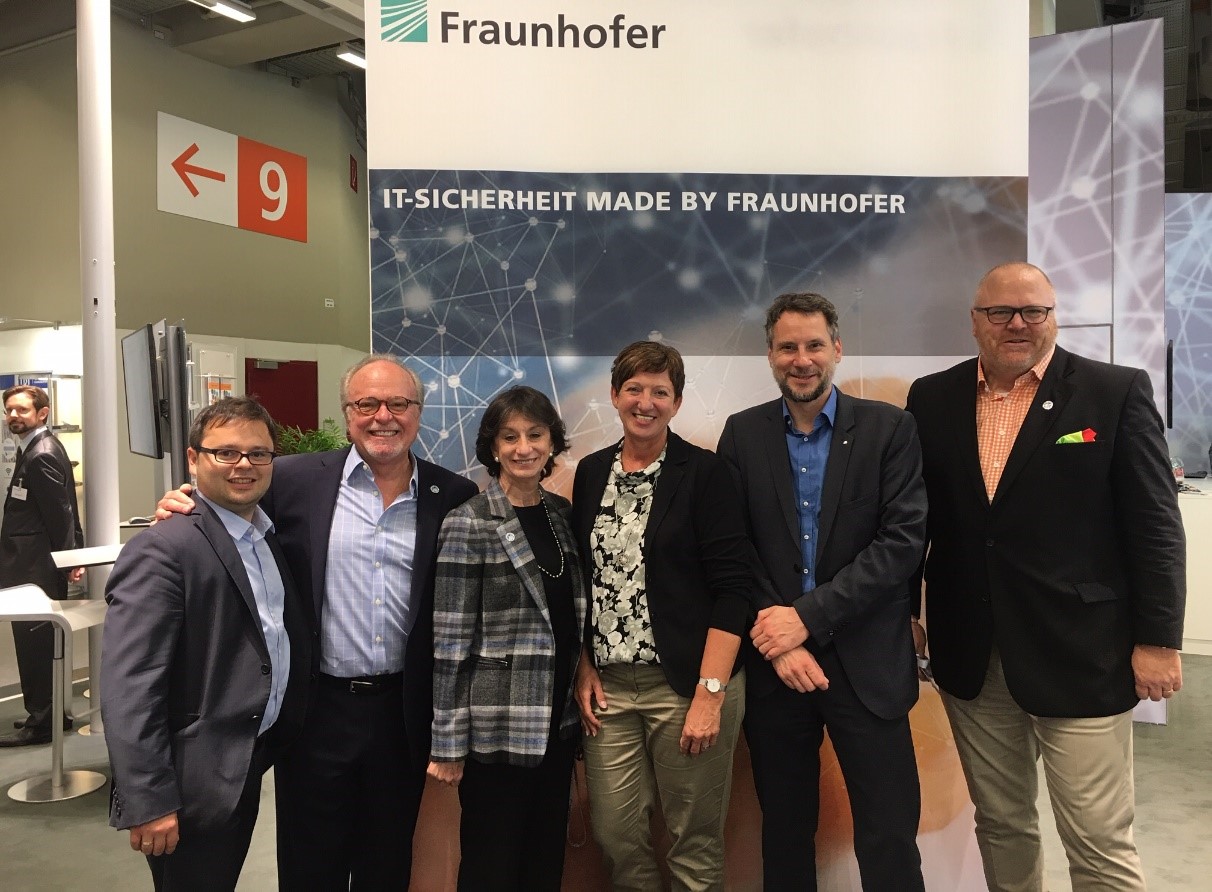 HCEDA Executive Vice President Vernon Thompson commented, "Our discussions with Manuel and Henning included our MOU with Fraunhofer USA CESE and plans for collaboration with the County's rich cybersecurity and technology community as well as Fraunhofer USA CESE's planned presence at the County's new Innovation Center. Manuel described Fraunhofer IESE's 'MyData Control Technology,' which we think would be of great interest to the technology and government communities back in the U.S. We thank Fraunhofer USA CESE for helping us make these introductions, Manuel, Henning, and Birgit for taking the time to meet with us, and we extend an open invitation for them to visit us in Howard County, Maryland, in the near future."
Howard County ranks among the Nation's most technologically advanced communities and shares the region with Federal Government agencies, leading academic and research institutions, and a large concentration of defense and cybersecurity contractors.

Based in College Park, Maryland, since 1998, Fraunhofer USA Center for Experimental Software Engineering CESE conducts applied research to support the software-enabled innovations created by its customers in industry, government, and academia. Fraunhofer USA CESE develops and uses advanced, effective, and scalable approaches to software and systems engineering, delivers powerful testing and verification strategies and tools, and uses state-of-the-art measurement and analysis methods to support its customers' challenges.
To support all of these efforts, Fraunhofer USA CESE relies on its demonstrated competences in the following areas:
Model-Based Development and Testing
Rapid Prototyping and Innovation
Software Safety and Security Analytics
Software Engineering Processes and Analytics
Fraunhofer USA CESE is one of seven centers of Fraunhofer USA, Inc., a 501(c)(3) non-profit R&D organization. Fraunhofer USA, Inc., works closely with Fraunhofer-Gesellschaft, the largest application-oriented organization in Europe.