Hitting the Factory Floor for Maryland's Manufacturing 4.0 at the Foundery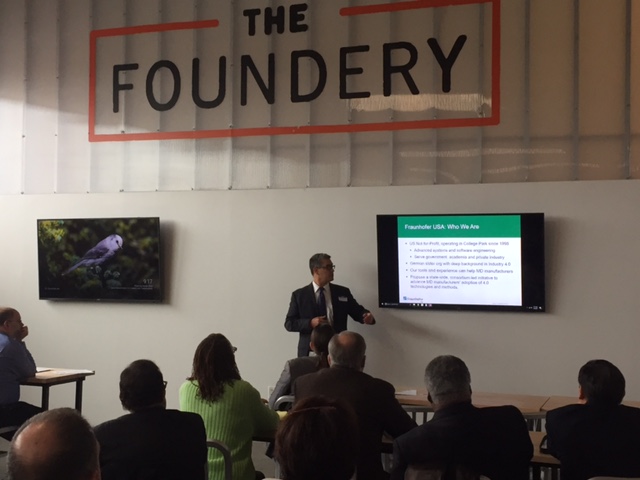 The Regional Manufacturing Institute (RMI) of Maryland hosted its local manufacturing constituents for a crucial matchmaking session, linking them to vital Manufacturing 4.0 resources to address their business and technological needs. Fraunhofer USA CESE's own Executive Director Dr. Adam Porter was amongst a group of key resources that presented at the Friday, February 3, 2017, event to a sold-out crowd at the City Garage Foundery in Baltimore.
The RMI of Maryland is a non-profit association, created for manufacturers in the Baltimore Metropolitan area. Today, RMI of Maryland represents the interests of manufacturers statewide – providing programs, services, and advocacy. The Foundery is the culmination of a creative community fueled by sharing tools and knowledge of the manufacturing industry to build greater innovations. Fraunhofer USA CESE believes that together, with the commitment of these and other governmental partners, Maryland could revitalize its local manufacturing industry to become leaders in manufacturing initiatives nationally.
For those who missed the event, the presentations can be found here Additionally, another opportunity to learn more about Fraunhofer USA CESE's role in Maryland's manufacturing movement is approaching on Friday, March 3, 2017. Register now