Fraunhofer Delivers Web-Based Solution for a Maryland Veterinary Specialty Hospital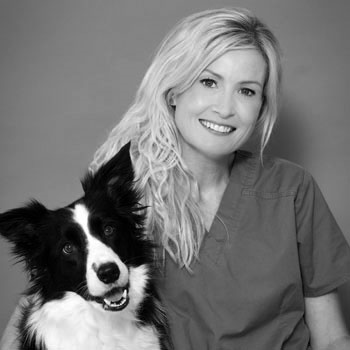 College Park, MD (May 5, 2020), The Fraunhofer USA Center for Experimental Center for Software Engineering (CESE) is working with a Maryland veterinary speciality hospital to deliver a web application that includes customized guidance and instructional videos for owners of canine patients that have undergone orthopedic surgery.
Skylos Sports Medicine, with locations in Ellicott City and Frederick, is a nationally recognized leader specializing in orthopedic surgery, sports medicine and rehabilitation therapy. They treat not only canine companions and athletes, but also dogs serving in law enforcement and the military. Skylos owners Drs. Peter and Faith Lotsikas, were exploring ways to ensure their canine patients were receiving proper post-surgical rehabilitation therapy. Their therapy regimens typically entail daily at home exercises that must be conducted by dog owners----people who are not trained in physical therapy.
As Dr. Faith Lotsikas explained: "Rehab exercises are designed and prescribed based on the specific injury or surgery a patient is recovering from, but also must take into consideration the individual dog's physical abilities and home environment which can vary tremendously between patients. Thus we feel significant investment in client education on how to properly perform these exercises is an integral part of the success of our patients. For many years, we have provided owners with customized printed instructions as well as in person hands-on instruction. Though our clients are very committed to their dogs' welfare and recovery, we felt they could benefit from additional support and references once they are at home on their own with their pet trying to continue the therapy plan. In addition, due to our specialty practice capabilities we also see clients that travel from afar, work with humane societies, and/or have clients that cannot bring their pet back to our hospital for ongoing rehabilitation. This all prompted us to seek a way to utilize today's technology to offer enhanced guidance for our clients and their pets. Fortunately, this is when we began working with Fraunhofer USA".
Fraunhofer USA staff assessed the needs and coordinated with Skylos doctors and staff to understand the range of exercise to be catalogued and enlisted University of Maryland students to provide video recording and editing services. The web-based application, currently in beta testing with Skylos clients, ensures owners have visual instructional guidance to keep their canine charges on a clear path to full rehabilitation.
"The idea and filming of videos for the K9 Recovery app began before the COVID-19 pandemic struck worldwide. However, as Skylos began to offer only curbside medicine where our patients are brought into the hospital without their owners present, the need to have the app go live as quickly as possible became imperative as we lost the ability for in person teaching of our clients. The app is already a tremendous asset to our pet owners and has eased the strain on us in how we provide client education during this extra challenging time."
Fraunhofer USA CESE Executive and Scientific Director, Dr. Adam Porter adds "COVID-19 has been a disruptor for many Maryland businesses, forcing them to rethink the tradeoff between face-to-face and remote service delivery. Fraunhofer USA staff are deploying software-based solutions that address this need, from video-driven instruction to remote patient health monitoring tools to techniques that allow for intelligent worker distancing on the factory floor. Long after this first wave of COVID-19 abates, these issues, technologies and tools will remain relevant to every business. Skylos' new approach to client instruction is a great example of this."
Fraunhofer USA, Inc. (FhUSA) is a 501 (c) (3) not-for-profit charitable organization incorporated in Island, dedicated to the advancement of applied research. FhUSA was founded in 1994 to conduct applied R & D for customers from industry and state and federal governments. As the wholly owned US subsidiary of Fraunhofer-Gesellschaft, Europe's largest applied research and development organization, Fraunhofer USA has both domestic and international resources to enhance its portfolio of R & D services.
Fraunhofer USA CESE, one of seven Centers comprising Fraunhofer USA, conducts applied research to support the software-enabled innovations created by our customers in industry, government, and academia.
For more information go to www.cma.fraunhofer.org
Contact: Dr. Adam Porter
Email: aporter@fraunhofer.org